How old was Kylian Mbappé when he became world champion?
Last Updated:
Kylian Mbappé isn't just a name in the world of soccer, he's a force of nature. A striker for Paris Saint-Germain and the French national team, this young prodigy made his mark as soon as he took to the field.
One of Mbappé's major assets is undoubtedly his speed. Imagine a lightning bolt in shorts and studs, taking on the toughest defenders. Add to this his impeccable technique, which enables him to control the ball as if it were an integral part of his body. But he doesn't stop there. His vision of goal is almost surgical, enabling him to find the most unlikely angles to put the ball in the back of the net.
But perhaps what sets Kylian Mbappé apart the most is his versatility. Capable of playing in several attacking positions, he offers his coaches a multitude of strategic options. Mbappé is your man. Or are you looking for a relentless finisher? Here again, Mbappé is your man.
If you still have doubts about his talent, take a look at his individual achievements.Mbappé was named best young player of the 2018 World Cup, a competition in which he shone brightly. He was also Ligue 1's top scorer for the 2019 and 2020 seasons. Not to mention his third-place finish in the 2018 Ballon d'Or, a remarkable achievement for a player of his age.
Kylian Mbappé is not just an excellent soccer player, he's a phenomenon who seems determined to leave an indelible mark on the history of the sport.
The summer of 2018 will go down in the annals of soccer, not least thanks to the World Cup in Russia. A memorable tournament in which France clinched its second world title by beating Croatia in a spirited final, which ended 4-2. At the heart of this feat, one star shone particularly brightly: Kylian Mbappé.
At 19 years of age, Mbappé wasn't there to make up the numbers. Having scored four goals during the tournament, including a resounding winner in the final, he confirmed his role as a master of French soccer. Such was his influence on the pitch that he was voted best young player of the tournament, a title not awarded lightly.
On that day, Kylian Mbappé not only won a world title, he also wrote his name in history. At 19 years and 6 months, he became the youngest French player to score in a World Cup. Even more impressive, he is the second-youngest scorer of the final after soccer legend Pele, who was 19 years and 5 months old when he scored in the World Cup final.
This is not only a victory for France, but also a dream come true for Kylian Mbappé. From an early age, he dreamed of winning the World Cup, and this dream has come true.This triumph has not only made him a world champion, it has affirmed him as one of the best players of his generation, placing him on a pedestal where very few have been able to rise at his age.
The 2018 World Cup was more than a milestone in Kylian Mbappé's career: it was an affirmation, a rite of passage that catapulted him into the ranks of world soccer legends.
Since winning the World Cup in 2018, Kylian Mbappé has gone from strength to strength, establishing himself as one of the superstars of world soccer. His influence now extends beyond the pitch, and he has become a media phenomenon in his own right.
At Paris Saint-Germain, his club of choice, Mbappé continues to sparkle. Since 2018, he has won several national trophies, adding Ligue 1 titles and Coupe de France victories to his trophy cabinet. His performances culminated in the Champions League final in 2020, underlining his potential to shine on Europe's biggest club stage.
On the French national team, the young prodigy also continues to make a name for himself. In November 2020, against Sweden, he scored his first hat-trick for Les Bleus. A few months later, in March 2021 against Kazakhstan, he became the third-highest scorer in the history of the French national team. These performances never cease to amaze, and prove that his title of best young player at the 2018 World Cup was no flash in the pan.
Internationally, Mbappé is increasingly seen as a worthy successor to soccer giants Lionel Messi and Cristiano Ronaldo. His name is circulating in the corridors of Europe's biggest clubs, sparking transfer rumors running into the hundreds of millions of euros.His influence on world soccer is undeniable, and each performance only reinforces his status among the best.But it's not just on the pitch that Mbappé is making a difference.He has also capitalized on his image, becoming an ambassador for renowned brands and an icon for millions of young fans around the world.
Since winning the world title in 2018, Kylian Mbappé has continued to grow, progress and demonstrate why he is one of the most promising talents of his generation. It's not just French soccer that's witnessing his rise, but the whole world.
sports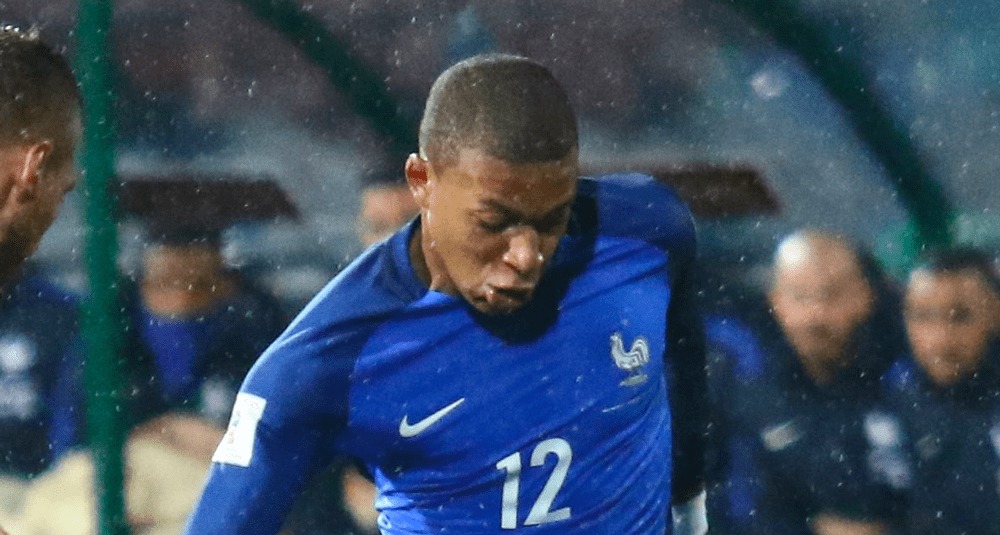 How old was Kylian Mbappé when he became world champion?
Answer
World champion at 19, Kylian Mbappé became the youngest player after Pele to score a double in the World Cup qualifiers.